Increasing economic opportunity for women rice farmers in rural Northern Nigeria.
programming
Training more than 1,000 women in financial literacy, agri-business and decision-making.
Access
Helping women access land, agricultural inputs, financial services and markets.
Network
BWC Nigeria is part of the larger Business Women Connect project financed by the ExxonMobil Foundation, operating in three countries and reaching thousands of women.
TechnoServe is the implementing partner of BWC. Globally, TechnoServe works with enterprising people in the developing world to build competitive farms, businesses, and industries.
The ExxonMobil Foundation has partnered with BWC since inception as part of its mission to support projects furthering women's economic inclusion worldwide.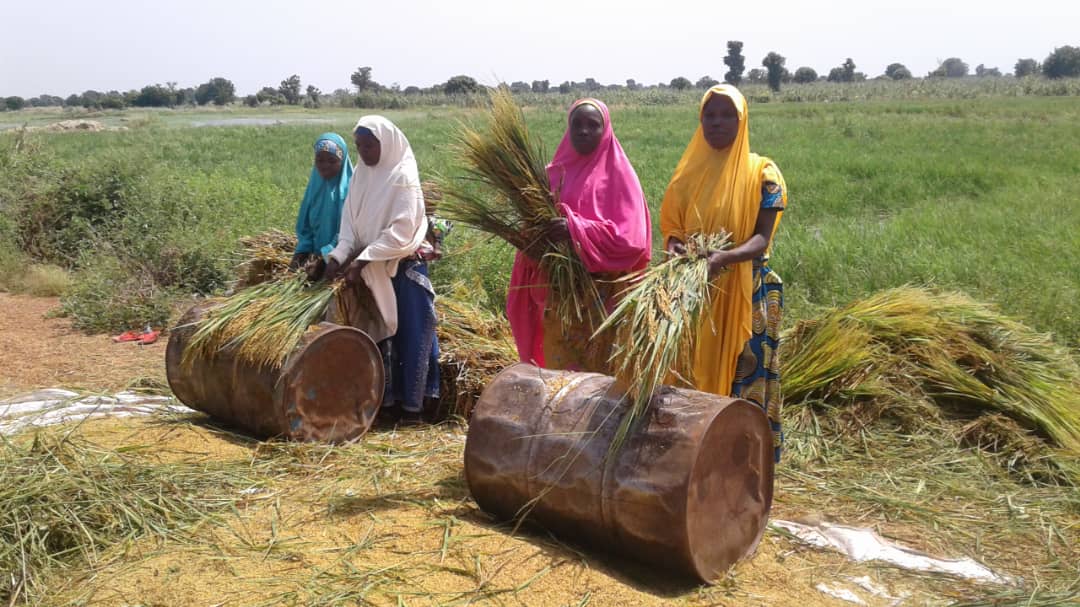 WOMEN MAKE UP 75% OF FARM LABOR IN RURAL COMMUNITIES, BUT PRODUCE 24% TO 32% LESS THAN MEN PER HECTARE OF LAND CULTIVATED.
The BWC program trains hundreds of women so that they can impact thousands in their communities.
Thousands of women, two states, Demonstrable Results.
In Northern Nigeria, access to lands, markets, financial services, and relevant agribusiness trainings are crucial for women farmers to gain greater control of their resources, grow their income and invest in their families and businesses.
Through two project phases, BWC laid the foundations to address some of these problems. As the program expands, it aims to build on that success and nurture the community of women farmers as they develop their skills into the processing segment of the rice value chain.
Our strategy is woman-centered.
As FARMERS, as learners, as CENTERS OF THEIR COMMUNITIES.
BWC takes a dual approach to women farmer empowerment - teaching good agronomic practices and teaching financial literacy.
The program not only trains women and their husbands on the technical aspects of rice farming, but also promotes women organizing to work and save cooperatively to reinvest in their farms and their families.
Questions? Want to get involved? Let us know.
Fill out the form below or drop us a line directly.
+234 9 291 0631 | tnsnigeria@tns.org